Family History and Research
Seaman John "Jack" Thomas Poingdestre
survivor of the sinking of the Titanic
"On the night of Sunday, April 14, 1912, able bodied seaman John Poingdestre, was put in charge of Lifeboat Number 12. After the sinking, his boat transferred some passengers from other boats. When rescued by the Carpathian, Number 12 had nearly 70 people in it."

(Excerpt from the book "Titanic - A Survivor's Story" by Colonel Archibald Gracie, 1998 Academy Chicago publishers, originally published in 1913 as "The Truth About the Titanic". More details can be found in the book.
About Life Boat 12 (links to other web sites):
About John Thomas Poingdestre: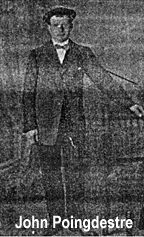 John Thomas "Jack" Poingdestre was born at 27 Old St John Road, St Helier, Jersey on 6 November 1886, the son of Philippe George Poingdestre (carpenter) and his wife Eliza Jane Warr. He was one of twelve children and left Jersey at an early age in order to go to sea. (1)
He was settled at 4 Elm Road, Shirley, Southampton with his wife Florence Maud Gallagher and five children of his own by the time he signed up for the Titanic's maiden voyage. (1)
Jack had three years experience as a seaman prior to the Titanic. He served on "nearly every Royal Mail liner leaving Southampton." He then served on White Star ships, the Oceanic and the Teutonic. (2)
A month before sailing on Titanic, he had been serving aboard P&O's mail ship Oceanic when it sank off Newhaven [East Sussex, England] on 16 March 1912 after an accidental collision with the Pisagua, a 2,850-ton German four-masted steel barque. Jack had gone below to collect his rubber boots, but was forced to wade back through waist high water due to a bulkhead that had fractured. This experience may have helped to prepare him for the Titanic sinking and when he was put in charge of lifeboat 12.

After the sinking of the Titanic, as the lifeboat was nowhere near to capacity, he collected other survivors from other lifeboats and had almost 70 people aboard when picked up by the Carpathian.
After the official inquiries into the Titanic episode, Jack returned to his family in Southampton but went back to sea on the outbreak of WW-I. He served on the Britannic, which sank under him after being torpedoed! The Britannic, Titanic's sister ship, was serving as a hospital ship in World War l when it was sunk off the Mediterranean island of Kea, about 40 miles south east of Athens, Greece.
He always refused to talk about the disaster and was not close to his children, who at one stage were placed in a home as their mother could not manage them. Consequently his date and place of death have not yet been ascertained.
Sources:
Alex Glendinning (Jerseyman, who helped with the 1998 research project on the Poingdestre family by the Channel Islands Family History Society) as published on Encyclopedia Titanic.
Jack's testimony at the British Inquiry of Wrecks after Titanic sunk.
What Happened to Jack?
PDA Members, read reports by Gill James in the PDA Newsletter in the October 2017 and the October 2020 issues. Gill, a researcher in Jersey, is leading the research with the Titanic Society to find what happened to Jack later in life. He becomes invisible to records of the time and we don't know where or when he died. Gill also gave a presentation at the annual meeting in Boston in 2018.
His Family:
Titanic touches some of us even closer. During the PDA's 1998 Reunion Tour of the Isle of Jersey, the group met Jean Poingdestre Coxon, the granddaughter of Seaman Poingdestre. She was excited to meet all of us and I [webmaster Jamie] continued to correspond with her until her death in the spring of 2013.
Titanic Artifacts:
On another note, in April, 1998, I visited the Titanic Exposition where actual artifacts from Titanic were on display. Near the end of the tour was a large wall chart of survivors and those whose lost their lives. John Poingdestre is listed as a surviving crew member. It took about two hours to take the audio-cassette guided tour where you learn about that disastrous night while looking at the artifacts, photos and models. For info on where artifacts are on display, go to www.titanic-online.com.
To add content to the PDA Web Site's Family History and Research section, contact the webmaster.
Back to Family History and Research Index